Salmiak Noir: Press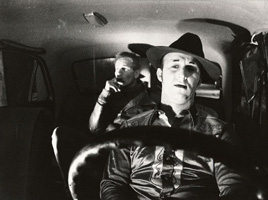 Peter Claus im SFB 2 "FiIm Ab'' - 26.4.1992
(...) It begins harmless with unsuccessfully car parking. But the music of an old "Edgar-Wallace" film, shooting like crack of whips and we reckon an uprising danger from the first moment. Yes - death lies in wait at every corner.
Out of a trunk, out of one of those cars which steal the taxi driver every chance for parking, a man is crawling, fond of Lakritze. He is dressed in a fine suit but shows up his gun. He's a terrifying gangster. The driver gets indisposed hired to be his private chauffer driving him immediately to the underworld.
On his tour from murder to kill author and director Volker Luedeke, skillfully and with great pleasure, reminds us big names like Godar's "Breathless" or Billy Wilder's "Double Identity". It's meant ironically. (...)
With his cameraman Jürgen Meissl, Luedecke was lucky indeed. He creates magic black and white portraits with a dark attraction which make Berlin almost a place of hell. The New York Bronx can't be that worst. Berlin is becoming a big place in the world. Pleasing though, the motion picture takes away from mainstream and fashionables.
(...) In the end the taxi driver is caught in prison. He has no more problems to get a right parking place on the street now. But one more thing he is very clear about. His dreams about excitement women in the underworld changed into nightmares and so he gets closer to his inmate.
---
More Press and Statements:
Zitty - 10/92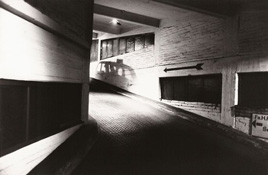 A taxi driver within phlegmatically disposition falls involuntary in the hands of a gangster. The driver tells us his painful story in flash backs out of prison: Children are bonding a booth and somebody places a bomb under his car causing trouble and brings the taxi driver distress. (...)

die tageszeitung - 4.22.92
(...) surprisingly fresh effects in that rubbishing play especially during the meditation pictures like the drive through the labyrinth of the underground car park, an endless scene (...)
BERLINER MORGENPOST - 4.23.92
A film, puzzled like life anyway, celebrates his premiere on tomorrows Friday in "Tacheles", Oranienburgerstreet 53-56 in the middle of Berlin. "Salmiak Noir" is the first movie done by Berlin's film company Filz-Film and financed by producer Joachim Lünenschloß who also plays the main part..
Lünenschloß has a Stan Laurel character, is always in love, but unhappily gets in contact with a killer who is bored by his job. The gangster (Rüdiger Matzeit) is determined to hijack the taxi including his driver and so an adventures tour starts. (...)
At his best moments the film reminds us quiet scenes of Jim Jarmusch cinema: in the brightest black and white the camera shows unusual sights of a town underlined with incredible music. (...)
Berliner Zeitung - 4.21.92
(...) A taxi driver and his long journey through the metropolis and through myths in cinema becomes a game itself, (...)
(...) amusing, with fine details in picture and sound (...)
Neues Deutschland - 2.24.92
When a lonesome killer is doing his job and heading for the city, when he is caught by inspiration, when steps are crunching and the camera is presenting perfectly structured black and white pictures, then we find us undoubtedly replaced in a "film noir".
What in more when the lonesome killer finds a curious taxi driver, when flops, bad luck and breakdowns get together with music of tango and swing, than we have to handle it likewise as a respectful parody. (...)
Miriam Goldschmidt - actress, director, has worked inter alia with Peter Brook
The actors in their characters persuade, the atmosphere is compact, also. Well done for the first film. When are you shooting the next one?
Dr. Michael Kötz - chief of the International Film Festival Mannheim
Good content. Awesome ironical and laconic parts succeed extremely in wider term. A remarkable work.
Ullrich Maass - Film Festival Munich
I never expected this film to be such high quality in realization, technical setting and forced dramaturgy by having that small budget which was invested for "Salmiak Noir".
Neue Filz Film GmbH · Vorgebirgstr. 187 · D - 50969 Köln · Phone: +49 221 - 55 00 893