Miriam Goldschmidt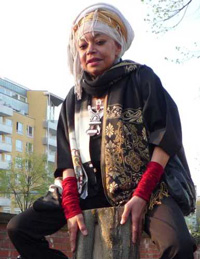 Miriam Goldschmidt was born in Frankfurt am Main. In Paris she studied drama at Jacques Lecoq and dance with Laura Shellen.
In this time her first works as an actress and director began. Still then Miriam Goldschmidt worked with lots of the big named German directors: in Darmstadt with Harry Buchwitz, in Munich with Fritz Kortner and Peter Zadek, in Basel with Hans Hollmann and Werner Düggelin, in Berlin with Peter Stein and Luc Bondy, in Bochum with George Tabori and Mathias Langhoff.

As she emphasizes, she found her real place to stand in the world of drama when in 1971 she went to Paris to work with Peter Brook in the C.I.C.T /Théâtre des Bouffes du Nord.
In those many years of working relationship with Peter Brook, Miriam Goldschmidt performed amongst other plays in TIMON D'ATHENE, LES IKS, UBU, MESURE POUR MESURE, LA CONFERENCE D'OISEAUX, LE MAHABARATA (stage and film). With most of these plays she went on world tour.

Peter Brook is also the director of GLÜCKLICHE TAGE (Samuel Beckett) and WARUM, WARUM, staging's Miriam Goldschmidt acted in the last time. One rightly can say Peter Brook has changed the international world of theater over many generations. To the premiere of GLÜCKLICHE TAGE in Basel the newspaper "Süddeutsche Zeitung" (3-22-2003) wrote:
..." The actress's laughter is an event. She can laugh quiet and sad, sometimes avidly. She does it in fact lustful when, with great pleasure, she tastes the revolver. She can laugh clangorously, beastly, sardonic, flippant, evil minded, raw, childish. A joy of laughter changes into sorrow from time to time. If she doesn't want to get any deeper, she bites her lips."...
Neue Filz Film GmbH · Vorgebirgstr. 187 · D - 50969 Köln · Phone: +49 221 - 55 00 893