Welcome at NEUE FILZ FILM GmbH!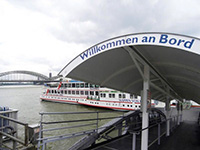 The NEUE FILZ FILM GmbH was founded in 8/10 to follow in the footsteps of the former company FILZ-FILM-PRODUKTION Berlin, which produced successful independent films in Berlin between 1989 and 1992. All two founders will play vital roles in NEUE FILZ FILM GmbH, in addition to being shareholders.

Joachim Lünenschloß is the Managing Director and will actively participate in film production as the screenwriter and the director.

Julian Freixa will be overlooking film productions as the producer.

The passion for film production shared by all these visionaries is combined with the conviction that respect and reverence for the artistic process is the key to success. This commitment for the art of film making goes beyond questions of monetary interest. This is the cornerstone of their philosophy.

We believe that films of high artistic merit and films that draw large audiences are not mutually exclusive, but rather go hand in hand. Narrow minded adherence to set categories of genre does not do justice to audiences. Such approaches to productions and simply producing films aimed at the mass market are short sighted and the wrong strategy for producing successful film.
Neue Filz Film GmbH · Vorgebirgstr. 187 · D - 50969 Köln · Phone: +49 221 - 55 00 893